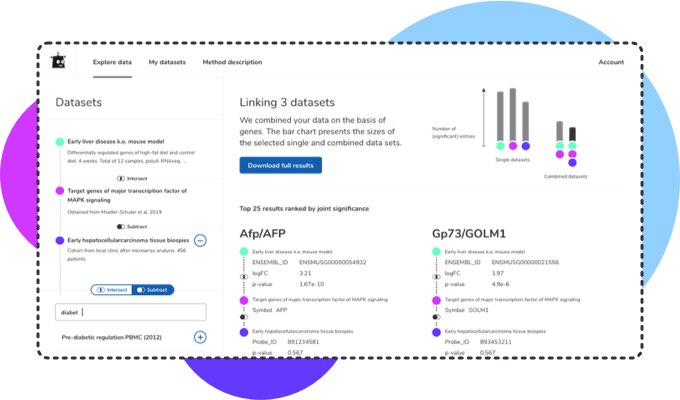 Explore beta
Link data sets with Explore and discover patterns. Subscribing to this core module, you search, link and compare your analysis results with one click at unprecedented speed no matter the bio data type. Consider all available data relevant to your hypothesis.
We offer one product for all your data types.
Independent of organisms (human, mouse, pig, plant, fly, worm, bacteria, fungi, …), we cover a continuously expanding range of data domains, which we call bio data types. In case your specific needs aren't covered yet, we'd love to hear from you!
GWAS summary statistics
Differentially regulated genes
Methylated regions
Deregulated metabolites
Mutations
Phosphorylation sites
eQTLs
Transcription factor targets
Deregulated microRNAs
many many more
Explore beta user flow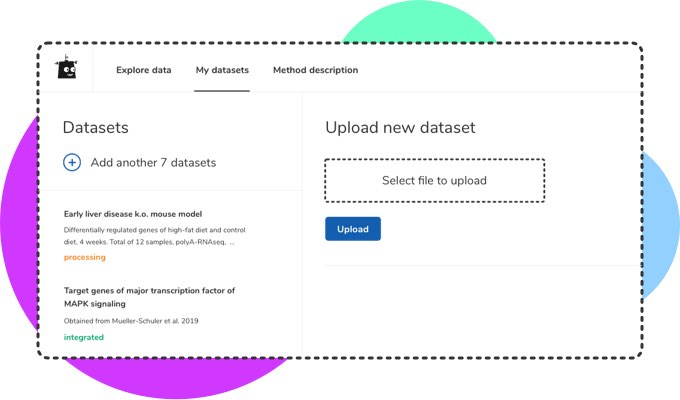 Get ready
Simply sign-up for an account, and start uploading data sets to your dedicated knowing01 cloud space. Your data sets are kept in the original format and are only accessible by you – unless of course you decide to share them with your team members.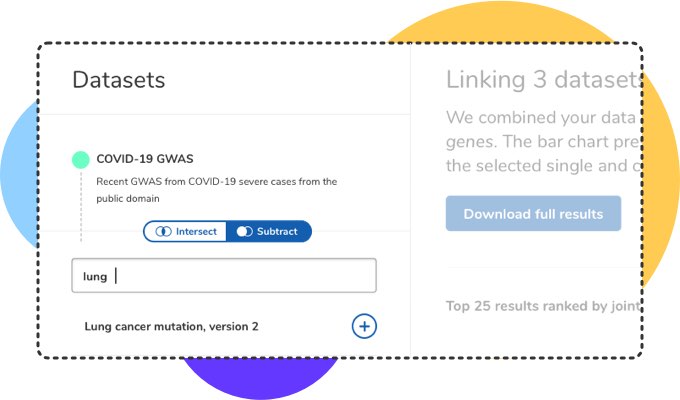 Start exploring
Across all data sets available to you – whether its your own, shared by a colleague or from the public domain – you link the data with one mouse-click and start exploring for patterns along your current hypothesis or discover new ones. Or simply find your key marker in all your data.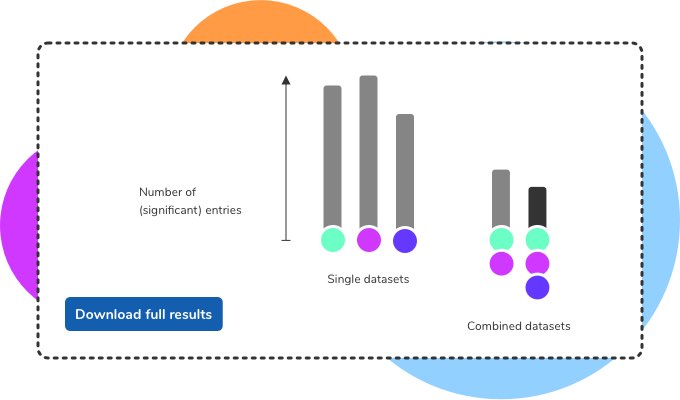 Take the next step
The results are shown immediately in our web-interface. Stored in your protected area, results can be shared with colleagues or downloaded. Transparency is at our core here: Each result includes the path taken to connect your data sets, ensuring reproducibility.
Example use cases
Differentially regulated genes (DEGs)

You received ten different comparisons of combinations after bulk RNAseq measurements and analysis from your NGS measurement facility. The sets cover different genetic background, time-points at two tumor stages (mid and severe). Now, which genes are exclusively regulated between time points irrespective of tumor stage? What differences between tumor stages are not affected by time? Are these genes targeted by the major transcription factor previously described to modulate the disease?

How Explore can help

Use Explore to combine the ten sets in a few clicks according to the relevancy for your questions and get the TF target gene list.
Be done in a day and use tomorrow to plan your validation experiments with the unique genes!
Translating between mouse and human

You have results comparing tissue gene expression from a k.o. mouse model exhibiting e.g. impaired lung function to control mice. Now you need to compare your results to regulated genes obtained from a human cohort at your local clinic and a public dataset, e.g. from TGCA?

How Explore can help

Use Explore to combine results of murine genes and human genes. Work with all data sets in the format you know. See common regulation on mouse-gene/human genes.
Be done and in a day and use tomorrow to plan you next experiments to validate your mouse gene top hits that are prioritized by having a set of top genes of early cancer signals in your k.o. mouse model.
Common genomic loci from GWAS

You have performed a new GWAS in a large cohort associating immune modulating marker with genetic variation. Now you instantly want to know, wich nominal loci are also picked up as the genome-wide significant loci of five human diseases that associate with impaired immune response?

How Explore can help

Use Explore to combine your new results (the GWAS summary statistics) with each disease GWAS separately and combined. See all common significant loci, that are identified including a proxy search of high linkage disequilibrium. Be done and in a day, used the results to enrich your manuscript and show relevance of your approach.
Collaborations and services
Collaborations
Your innovation-driven project requires interdisciplinary efforts?
We offer collaborations to exciting innovative disease research endeavors. We contribute with our decade of data science expertise together with our unified data model – the CellMap technology – and software to boost the robustness of early discoveries by massively expanding the data scope.
Talk to our experts about the joint collaborations.
Serviced analyses
Your project requires immediate data science support to leaverage multiOMICS or large scale data?
We offer serviced analysis to identify robust biomarker by integration of vast amounts of public and in-house data as well as uncover novel disease biology from large scale data.
Request your free test account
Get your quote for knowing01 software